Today, I was able to knock another nursery project off my list - and it was so quick and fun to make!
One of the problems with choosing a non-traditional nursery theme like UGA is that coordinating accessories aren't always available. I've been looking for a cover for my Boppy pillow for SJ4, and I couldn't find one I really liked - and I definitely couldn't find one that was anywhere close to matching his nursery theme. Most of the boys' Boppy covers are blue and green based - I couldn't find a single red, black, or even plain white one. So, I thought about making one.
I found this pattern online at the blog
Vanilla Joy
, which was originally featured on Economical Baby (but has since been removed). The pattern was super-easy to follow, and I
loved
that she had a picture of how to tape the pattern pieces together: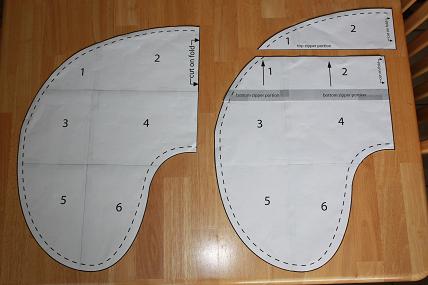 I'm sure I would've gotten that step wrong without that picture. Once I got the pattern cut out and taped together, it was smooth sailing from then on out.
I was so surprised by how easy and quick this project was to complete. I'm usually scared of sewing projects that involve a lot of curves ... and this Boppy cover is all curves. However, it was not difficult at all! It didn't take hardly any time to complete this project, and (in my opinion) it looks really good and professional. For those of you who watch Food Network, I started cutting the fabric after I watched the first few minutes of Barefoot Contessa, and I had the whole project finished before Paula Deen could finish her pie - the Neelys came in between. So, that means it took me right around one hour.
Here's my finished UGA Boppy Cover!
Front:
Back with zipper:
I let Katie Anne choose the fabric from Hobby Lobby's collegiate selection - they had about 5 UGA fabrics to choose from, and she choose the second most expensive one, but it was on sale for half off. The two yards cost $8.00 (normally would've been $16.00). Plus, the 24" zipper cost a little more - it was $3.80. So, I had about $12.00 in this Boppy Cover ... not a bad price considering Boppy Covers run from $9.99 - $24.99. I definitely could make one a lot cheaper - easily around $5.00 - if I wasn't so particular about the fabric.
Also, you don't need two yards - I think 1.5 yards could easily do it. I even had enough fabric left over to make big sister an easy twirly skirt!
(Not that she necessarily wants to coordinate with her brother's Boppy, but Katie Anne will need something cute to wear this fall when football season starts.) I'll take a picture of her wearing the twirly skirt tomorrow!